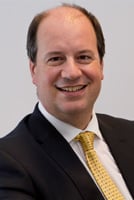 My Job
I am the CEO of Grayling Belgium for the last 16 years and 5 years ago became the Chairman of Public Affairs for Europe. As part of my first function, I am also the Secretary General of several EU Trade Associations. But what are titles? I guess I am here to keep driving, innovating and having fun with the teams on the one hand and on the other delivering results for the clients.
My Experience
I started off like all good lobbyists in the European Commission as a Stagiaire in the then DG XIII for Telecommunications working for a unit attached to the DG responsible for advising on the Asian Tiger Economies – this goes back to 1987!
I moved to an American law firm which in those days was THE lobbying market in Brussels and was working on several high-profile competition and trade cases. At that time, I was seconded to work for the Japanese car industry association, JAMA, where I developed my business knowledge of all things Japanese which I have pursued to date. I then moved to a London-based lobbying boutique which provided me with the insights of how to "lobby London style" which I adapted to the Brussels market. Understanding full well that communications was at the heart of lobbying I joined one of the global PR networks, H&K, to develop my skills set and obtain a broader experience. I joined Grayling in 2003 as CEO where I have focused on developing the business, the expertise, the people & their skill set and our European network.
My Specialisms
My Proudest Achievements
There are many but the one that stands out is team collaboration: with my team winning a pitch and doing great work for clients!
My Education
I was educated in Belgium, France and the UK in a bilingual environment. I graduated with a BA in European Politics and languages from Kent University and obtained Master's degrees from Science Po in Paris and the College of Europe in Bruges.
My Languages
English and French
My Interests outside work
Maintaining the "life-work balance", I have tried many pursuits but have settled with yoga to keep me zen! Competitively, I was a marksman shooter in the UK and have enjoyed diving in many oceans around the world. Having grown-up in Belgium, I am a fan/addict of the bande dessinee and have become a collector of original edition mint collection albums – reading a 70-year-old album is a truly unique experience and have since held several exhibitions at the office!
My Favourite Brussels anecdote
A truly difficult question given I now span 30 years of EU-Brussels experience, but to name 3:
Ken Collins MEP, the Chair of the Env Ctee bullying industry to table amendments only to reject them all (bar mine of course) for they did not confirm to EP rules.
Being confused for Chris Patten, the UK Commissioner in his EP hearings in Strasbourg…I nearly pulled it off, but I was looking too young then!
Listening to the penny drop (not a single sound) when Jacques Delors spoke in Strasbourg – he was awesome… today Europe has failed to find such a leader…