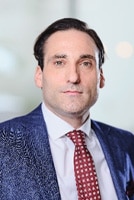 My Job
In January 2022 I was appointed to a newly created role as Executive Vice President, Public Affairs, Europe Africa. In this new role, I am further strengthening BCW's market leading public affairs and policy capabilities and enhance the agency's client offer throughout Europe and Africa, while also bringing expertise to the wider BCW global network. I continue to provide strategic counsel on advocacy, building engagement plans for clients.
My Experience
I have been at BCW since 2016. Prior to my new role, I was leading BCW Brussels sustainability team – the largest among all BCW offices worldwide as well as compared to other agencies based in the EU capital. Before joining BCW, I spent fifteen years in the UK Civil Service working on a wide range of domestic and international environmental policy; I worked within DG Environment, within the UK's European team in the Cabinet Office, as Private Secretary for a Defra Minister, and as environment attaché for the UK Permanent Representation to the EU. I have also held policy specialist roles on chemicals, waste, water, and sustainable development.
My Specialisms
My Proudest Achievements
My proudest achievement is when I represented my country as a diplomat to the Institutions of the European Union. I had the privilege of leading the successful delivery of the UK's objectives at the EU's 7th Environmental Action Programme.
My Education
I graduated from the University College London, with an MSc Environment and Sustainable Development, and I graduated from the University of Portsmouth with a BA with Honours in European Studies with French and Italian. My areas of study included European Law, European Policy, French, Italian, and International Economics.
My Languages
English, French, Italian
My Interests outside work
I enjoy snowboarding and attending music concerts, and I am keen to run whenever I can.
My Favourite Brussels anecdote
My favourite Brussels anecdote would probably be the time I successfully lobbied a group of EU ambassadors to sport moustaches to spark conversation and raise money for "Movember," which promotes the Movember Foundation for men's health. What was unusual about this was that all of these ambassadorial colleagues were women! They wore fake moustaches during their COREPER interventions.