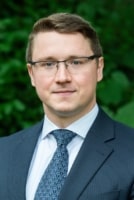 My Job
Advising companies on current developments on EU's digital policies and providing strategic advice on engagement and positioning with various stakeholders.
My Experience
My professional experience covers both private and public sectors, including a stint as an Economic Policy Advisor at the South Korean Embassy in Brussels, a Trade Policy Advisor and Government Affairs Manager at the Foreign Trade Association, representing retailers and importers of fast-moving consumer goods. I started my career in Malta as a policy adviser for a telecoms company, and also worked for a consultancy focusing on digitisation and innovation funding.
My Specialisms
My Proudest Achievements
Along with my team, I developed a very good reputation for a very small association in Brussels, particularly through active engagement, positioning and cooperation with the European Commission's Directorate General for Trade. Our work was so well regarded by the Commission that our President was invited to speak at a high-level panel consisting of the Commissioner for Trade, the Secretary General of the World Trade Organisation and the Director-General of the International Labour Organisation. Hearing the messages that I drafted being shared and discussed by such renowned officials in front of a vast audience was a very inspiring moment.
My Education
I hold two Masters degrees, first one in European Studies from the University of Malta and the second in International Relations with Diplomacy from the College of Europe in Bruges.
My Languages
I am a native speaker of Serbo-Croat, fluent in English, and working proficiency in French, Polish, and Maltese, as well as basic Korean.
My Interests outside work
I am passionate about community engagement and have been leading an NGO in Malta that supports the local Western Balkan diaspora. I also love sports (basketball, rugby, football and tennis) and am an avid reader (particularly philosophy and history).
My Favourite Brussels anecdote
During my years attending various receptions and functions in the Brussels Bubble, I began a curious collection through no wish of my own; That is, being amicably slapped by heads of state. To date, I have been slapped by a President, a Prime Minister, and a European Commissioner. I am only missing an acting Royal on the list, but it gives me something to aim for in the coming years. I hope that this is not due to a high 'slapabiltiy' index I might possess, but rather due to my open and amicable personality that makes people instantly relate to me…