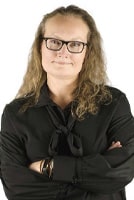 My Job
General Manager, responsible for the office.
My Experience
European Commission; Member of Vice-President Dombrovskis cabinet, Member of Commissioner Hill's cabinet
Danish Permanent Representations to the EU
Senior Advisor at the Danish Ministry for Business and Growth
My Specialisms
My Proudest Achievements
I'm proud to carry on the truly unique culture that has been built at FleishmanHillard. It's a place where people take the discipline of public affairs very seriously but also a place that really values and relationships – with clients and across teams. In a place like Brussels, relationships are essential to success – in every sense of the word.
My Education
University of Copenhagen – master degree in law.
My Languages
Danish, English, Dutch, German.
My Interests outside work
When I'm not fully occupied with my two girls, you can find me enjoying a quiet moment of zen in my garden or on the back of a horse.
My Favourite Brussels anecdote
That moment when I'm speaking to the CEO of company who thought that Brussels was just about beer and frites and I explain to her or him that "yes, Brussels does have the power to impact the future of your business on a global scale, so you'd better pay attention!" This is a conversation I seem to be having on a weekly basis nowadays – especially when it comes to tech and sustainable finance.