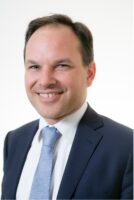 My Job
As senior director, I counsel and/or head the trade associations hosted by Grayling in the field of energy and construction.
My Experience
Secretary-general of various trade associations in the food sector at international, European and Belgian level; noteworthy the International Special Dietary Foods federation (ISDI), the European Bakery Ingredients Suppliers' federation (FEDIMA) and Belgian Millers Association (KVBM-ARMB).
Started my career as political advisor to a Dutch Member of the European Parliament (MEP) where I helped my MEP drafting the annual report on Turkey's accession to the European Union.
My Specialisms
My Proudest Achievements
I can point a few highlights and meetings high-level elected policy makers and officials, but my proudest achievement is to ensure that the associations I had the privilege to serve "solidified" during my time and be recognised. I feel the greatest recognition is that officials and elected people call you.
My Education
College of Europe, Bruges, Master of Arts in European Public and Administrative Studies
Université Libre de Bruxelles, DEC2 en études européennes
Licence in History, KU Leuven
My Languages
French, Dutch, English.
My Interests outside work
Family time, the Mediterranean heritage, the construction of the European Union, wine. I'm also a beekeeper.
My Favourite Brussels anecdote
Remembering 2004: the EP welcomed "observers" of the Central and Eastern European Countries during a few months bridging the accession of these countries and the first elections in May 2004. The future MEPs seemed lost. They have come a long way…