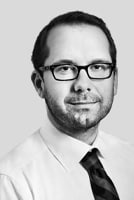 My Job
I help our clients to connect public relations and media management with public affairs and political engagement – ensuring that communications are strategic and have a meaningful impact on policy and political discussions.
My Experience
Before entering consultancy, I mostly worked in the European Parliament, with over a decade in media relations across two centre-right pan-European political groups. This included seven years as a group spokesperson and head of the press and media unit. I've also worked on a number of successful political campaigns in the UK.
In between these roles I worked for the largest UK business organisation on their EU affairs outreach.
My Specialisms
My Proudest Achievements
Quite a few that I'm proud of, whether steering an individual through a media crisis, or leading a successful campaign that has delivered a policy or legislative change. I'm happy to make a positive difference.
In recent years I was proud to help in the start-up phase of a new non-profit foundation called the Alliance of Democracies. My boss, Anders Fogh Rasmussen, decided to create the foundation after stepping down as NATO Secretary General in order to help strengthen the spine of the world's democracies. I acted as media director for its inaugural Copenhagen Democracy Summit, where I worked with leaders such as Joe Biden, Tony Blair, Stephen Harper and Nick Clegg. I also helped to create the Transatlantic Commission on Election Integrity, which has become a leading bi-partisan, transatlantic body raising awareness of the next generation of disinformation and election interference, such as Artificial Intelligence-enabled disinformation.
My Education
University of Exeter, BA in Politics
My Languages
English, French
My Interests outside work
In the summer months, when not at work, you'll probably find me at Pairi Daiza zoo near Brussels. In the winter months you'll find me in my mini zoo at home!
My Favourite Brussels anecdote
After working with politicians for so long I have many, but half you wouldn't believe and the other half I'd probably get sued.