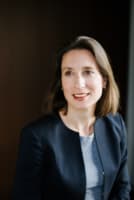 My Job
I advise clients in the interface of complex regulation, high political stakes and big media and public attention. Committed to doing the right thing by democracy.
My Experience
Prior to joining HeringSchuppener in 2010, I was Head of European Public Affairs at Deutsche Börse Group responsible for a pan-European team working on financial regulation from 2002 and throughout the financial crisis. Previous experiences include six years in investment banking at Schroders and Citigroup in London and 3 years in a French public affairs consultancy in Paris.
My Specialisms
My Proudest Achievements
Feeling and being at home in many places.
My Education
Graduated at the Institut d'Etudes Politiques de Paris and hold a Master in European Law from the Université de Paris XI.
My Languages
German, English, French.
My Interests outside work
Avid skier and runner; I like to relax over food, wine, baroque music and good books.
My Favourite Brussels anecdote
Sitting in the Parc Royal on my first day of sun in Brussels in May of 1993 after a terribly grey winter and seeing a completely different place.