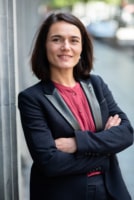 My Job
I have over 18 years' of experience in leading sustainable public affairs strategies, with a particular focus on sustainable industrial value chains, to harness the challenge of global warming.
Before joining FIPRA International, I worked with the private sector on batteries, electro-mobility and digital mobility services, strongly advocating for a level playing field for innovative and sustainable batteries value chain in Europe, and to foster zero emission mobility services in different countries across the globe.
I have also acquired some experience as a civil servant, working  for the European Commission in developing alternatives fuels for transport and sustainable urban mobility.
Prior to joining the Commission, I worked in the energy sector supporting renewable energy development and innovation.
I started my career in Politics, at the French Parliament where I actively participated in reforming the Constitution, and supported a presidential campaign.
My Experience
As an adamant believer in new circular business opportunities, I strive to bring together innovative, social, and environmental values, to harness the challenge of global warming reduction. My team and I are currently supporting FIPRA's clients to understand the green deal and the global agenda on climate, environmental and social sustainability and help them achieve meaningful results within it.
My Specialisms
My Proudest Achievements
Public affairs is very much about teamwork and collective efforts. I would say, being part of so many important projects that would lead us to a more sustainable economy such as: leveling the playing field for renewable energies, facilitating the development of alternative fuels for transport and helping cities develop more sustainable mobility plans, fostering innovation and financing, and helping build sustainable value chains for batteries and durable products.
My Education
I graduated from Sciences-Po Paris and hold a Law Master's degree.
My Languages
I am a French native fluent in English and Spanish.
My Interests outside work
I have a passion for ethology and conservation and usually use my spare time to learn more about it and understand better the intricating impacts of our actions as human beings.
I will certainly not deny my French roots by enjoying good wine and fine cuisine with friends…
My Favourite Brussels anecdote
Interestingly, French-speaking Belgians often use the verb "savoir" ("know") instead of "pouvoir" ("can") to express capacity. This linguistic particularism goes to show, especially in the world of public affairs, that empowerment begins with knowledge. What a lesson of wisdom!