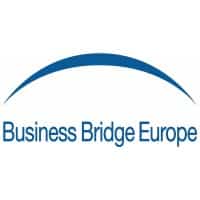 About Business Bridge Europe
Key Specialisms
Brussels Office Since
2008
Firm Description
Business Bridge Europe (BBE) is a unique boutique consultancy firm specialised in European public affairs, employing this expertise to the benefit of its clients in actions of advocacy, business intelligence, training and coaching, strategic communications and first-class event management, and has been, since its inception, specialised in European space policy.
Established in 2008, BBE is composed of a dedicated senior and experienced team of consultants that, together, detain over thirty years of experience working with EU decision-makers, media and the private sector, both in the EU and abroad, on key strategic topics, including space, aeronautics, security and defence, digital policy, artificial intelligence, 5G and cybersecurity, as well as energy and circular economy. The thorough knowledge that BBE's partners and team possess of the EU decision making process make it a highly effective operator in the European sphere of influence.
Over the course of the past fourteen years, BBE has predominantly established itself as an effective and respectable operator in the EU aerospace ecosystem, having worked closely with all the key stakeholders, such as the European Commission and the GSA, the European Space Agency, national governments and space agencies from across Europe, and key industry players, particularly in the context of such key initiatives as the European Space Conference which was first organised in 2008 at the request of European decision-makers who needed a platform to increase awareness of Galileo and to bring together the European space sector.
Our activities have a strong European scope, with an increasingly important component developing beyond Europe's borders, particularly with regards to cooperation between the EU and Africa.
Key Strengths
Business Bridge Europe's activities focus on a wide range of sectors of particular strategic importance to Europe, and each time it provides a variety of services tailored to the specific needs of each client.
BBE works closely with clients in the European ecosystem, helping them develop a solid and clear position on the file(s) of their choosing, and presenting it to a dense and diverse network of contacts at the heart of the decision-making process.
Our services include, but are not limited, to European & Regulatory Affairs, Business Intelligence, Communication & Media Relations, Representation & Lobbying, Events & Conferences, Crisis Communication, Training and Education in Communication and EU Affairs.
Number of Public Affairs Consultants
The team consists of 2 Senior Partners, 4 experienced Public Affairs Consultants, 1 Event Manager & a team dedicated to Events.
Key Clients
Airbus Group, Ariane, EIT InnoEnergy, EUCOBAT, Mercator Ocean.
All our other clients are listed in the EU Transparency Register (n° 72856225852-31).
Thought Leadership
BBE strongly believes in a dual business model it has been pioneering since its creation, equally focusing on strategic advocacy and event management at the highest level.
For over a decade, BBE has developed a well-known expertise and a savoir-faire in the development and the organisation of important platforms, which bring together key political and industrial stakeholders with the aim of promoting the core strategic interests of the EU.
As such, BBE has the know-how and capacity to organise and manage events of various shapes and sizes, tailored to the needs of its clients, ranging from a breakfast of a dozen guests, or a VIP lunch/dinner, webinars, to full-scale conferences, both physical and virtual, bringing together hundreds and thousands of participants (e.g. our 3 flagships, the European Space Conference, the EnerGreenDeal Conference and our latest creation, the European Defense & Security Conference). BBE can also organise smaller, more targeted face-to-face meetings between stakeholders, as well as public hearings, press conferences and more.
The platforms organised by BBE are integrated into a wider communication and public affairs strategy that we develop directly with our partners in order to achieve concrete results. Each event constitutes an effective tool at the service of other actions, such as reputation and brand-building, advocacy regarding specific issues and the defence of interests.
Best Consultants