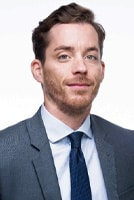 My Job
Explaining complex matters in a simple way! Leading the energy, climate & transport project teams in our Brussels' office helping our clients to prepare for an effective business transition and to promote state-of-the-art solutions. We work closely with the European institutions as well as stakeholders at national and global level.
My Experience
More than 10-years of experience in managing successful political advocacy campaigns and in guiding companies through the regulatory agenda. Based in Brussels and previously Berlin, I acquired an in-depth knowledge of European and national decision-making procedures and their impact on business. Work stations included two of the 5-top international PA agencies as well as the German Parliament.
My Specialisms
My Proudest Achievements
Having been able to accompany a majority of my clients for many years and see them becoming thought leaders in their respective fields. Going to the office each day with an open mind and the ambition to learn and to motivate others to do the same.
My Education
MSc European Political Economy (London School of Economics)
MA Political Science & European Law (Goethe University Frankfurt)
My Languages
German, English, and still trying my best with French.
My Interests outside work
I do enjoy reading, politics, travelling, skiing and spending time in café's but family & friends always come first.
My Favourite Brussels anecdote
Any little story you witnessed, experienced or heard that is funny, interesting or relevant for our readers.