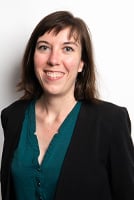 My Job
I develop, implement and manage successful public affairs and communications campaigns for leading companies and trade associations in the Energy and Sustainability sectors. I assist my clients in developing and implementing their lobbying strategies to limit or remove possible challenges posed by upcoming or existing legislation and to leverage policy opportunities. I also help them define their identity, bolster their visibility, and ultimately increase their credibility towards decision-makers and key stakeholders at EU and national level.
My Experience
Before joining Grayling, I worked at the Representation of PSA Peugeot Citroën to the EU, handling environment, transport, consumer and competitiveness issues. I liaised with a number of companies, national and EU trade associations and key stakeholders.
My Specialisms
My Proudest Achievements
Grayling runs the Secretariat for EVIA – the European Ventilation Industry Association – which aims to promote highly energy efficient ventilation applications across Europe, with high consideration for health, comfort aspects, and good indoor air quality (IAQ). Over the last three years, I have coordinated a successful campaign on IAQ, leveraging the revision of the Energy Performance of Buildings Directive (EPBD).
The EVIA IAQ campaign has as its focal point Brussels but also takes into account key Member States to build a top down and bottom up approach. We prepared a variety of communications and advocacy materials and activities throughout the campaign: revamped website, new brochure, seminar and events, thought pieces in the media, Twitter, press releases, position papers, joint statements with like-minded organisations, amendments, etc.
EVIA has been able to strengthen Indoor Air & Environment Quality aspects in the revised EPBD for the benefit of citizens' health, comfort and productivity and to position itself as one of the key stakeholders in this debate.
My Education
I hold a Master Degree in European Administrative and Political Studies from the College of Europe (Bruges, 2012) and a Master Degree in Public Affairs from SciencesPo (Paris, 2011).
My Languages
I speak French and English.
My Interests outside work
I have a passion for ceramics, which I have practiced on a weekly basis for the past two years. I love the relaxing effect of pottery and of turning a clod of clay into useful and aesthetic objects.
My Favourite Brussels anecdote
I recently heard that the famous Belgian chocolatier Neuhaus was initially a pharmacy in the Galeries Royales Saint-Hubert back in the mid-19th century. The founder's grandson proposed to cover the medicines with a layer of chocolate to make them more palatable. That's how pralines were invented, which now contribute to the excellent reputation of Belgium in the art of chocolate making!