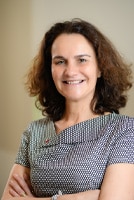 My Job
I am the head of Fipra's digital practice, developing the Brussels policy/public affairs digital business. This includes government relations, policy and regulatory advocacy covering privacy, cybersecurity, IPR, e-commerce and related consumer protection, online platforms regulation, online gaming, etc. In addition, I'm the managing partner of Samman Law & Corporate Affairs, one of the few French law firms specialising in public affairs.
I serve as the President of the European Network for Women in Leadership. I'm also a member of the Equity Fund Women Equity partner Strategic committee and of the Board of the European American Chamber of Commerce and a guest lecturer on French and European public affairs, policy and regulatory advocacy at ESSEC, HEC, the Paris Bar School and French law schools and universities.
My Experience
My first professional role was as a founding member of a prominent French NGO, SOS Racisme. I then became a member of staff for MP Claude Bartolone
After passing the Paris Bar, I joined August & Debouzy to develop their Corporate Affairs Department.
In 2003, I joined Microsoft France, creating and leading the Legal and Corporate Affairs Department. I also sat with the leadership team where my responsibilities included strategy reviews and planning.
I became Associate General Counsel within Microsoft International, designing and executing the company's Institutional Relations and Public Affairs and Corporate Social Responsibility Policies for the EMEA region.
After ten years with Microsoft, I opened a specialised public affairs law firm, present in both Paris and Brussels. which is a Fipra Unit for France.
My Specialisms
My Proudest Achievements
Over the past two EU legislative terms, we worked for two clients that are leaders in 3D software solutions and online advertising.
The key challenge from the outset was to create and share a holistic narrative about a business that may be totally unfamiliar to policy makers, rather than focus on the policy 'demands'. Without a coherent and resonant narrative, any advocacy is dead in the water.
We demonstrated the economic contribution of each business and demystified common misperceptions around their business models. Conversations on the relevant policy issues are much easier when the benefits of the business are already recognised.
This strategy takes time and requires commitment from senior leadership. However, it pays dividends; the executives now regularly interact with the institutions, participating in and making inputs into their thinking process on forthcoming legislation.
My Education
Postgraduate diploma in Banking and Finance Law, a professional postgraduate diploma in Criminal Policy and Law in Europe. I was admitted to the Paris and Brussels Bars.
My Languages
French, English
My Interests outside work
I genuinely enjoy my professional life and encountering people from a variety of backgrounds and cultures. My family and friends are also hugely important to me; I'm social and gregarious by nature.
I find literature and sports a good way to distance myself from my everyday personal and professional life.
My Favourite Brussels anecdote
I remember one CEO telling the Chair of the Ecofin Committee not to "adopt this financial measure because it will hurt my bottom line". Perhaps, but business profits are not as a rule the foremost concerns of politicians or civil servants nor is it the best argument to advance.