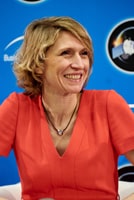 My Job
A partner, my objective is to take the agency to the next level in terms of size, brand and revenues. I also lead business development and am in charge of structuring the offer and team.
My Experience
Partner, Avisa Partners
2018 – 2020 – Managing Partner, Business Bridge Europe
Business Bridge Europe is a boutique agency specializing in advocacy for Europe's strategic economic sectors with unrivalled access to senior EU decision makers
2010-2018 – Partner, GPLUS EUROPE
GPLUS (Omnicom) is a leading EU public affairs and communication agency in Brussels with offices in London, Berlin and Paris
Responsible for business development, company management and client relationship. Leading growth contributor
Represented blue chip companies with high client retention rate
Advised companies & trade bodies on their positioning and digital communication strategy
Defined advocacy campaigns in Brussels and key European capitals
Managed over 20 staff members including senior policy
After a stint in French Embassy to the United States, Washington DC and then European Commission's DG Trade (Market Access, US and Canada Unit), I started at GPLUS as junior consultant in 2004, was made senior consultant in 2006 and was Account Director from 2007 to 2009.
My Specialisms
My Proudest Achievements
The copyright battle
Issue: Internet giants generate massive advertising revenues from content produced by others, including press publishers' and news agencies. The situation has been draining the lifeblood of the independent press. The copyright directive was meant to rebalance the situation and ensure big tech would remunerate content properly. But the reform was fiercely opposed by big platforms who campaigned on a supposed threat to people's free access to the internet. Yet this has never been in the slightest doubt. After the rejection of the copyright directive by the European Parliament (in plenary) in July 2018, the situation looked bad, if not desperate.
Action: Having been active on copyright issues for many years, I was convinced that only the involvement of highly regarded journalists and war reporters could change the game. Sammy Ketz, former AFP bureau-chief in Iraq and who was seriously injured in Baghdad in 2013, authored an op-ed called "Article 11 [publishers' rights] a question of life or death". I took him to Strasbourg in September 2018 ahead of the second plenary vote on copyright. His op-ed had been co-signed by more than a hundred war reporters across Europe and translated into all European languages (including Maltese!).
Outcome: The second vote was positive opening the way to trilogue negotiations which concluded successfully despite the tight schedule in spring 2019. Press publications and press agencies should be getting remuneration from big tech in the near future and be able to sustain quality journalism and free press.
My Education
College of Europe (Master in EU Politics) – Bruges, Belgium
Georgetown University (School of Foreign Service)– Washington DC, USA
Science-po Strasbourg (BA in EU Politics & Law) – Strasbourg, France
My Languages
English and French
My Interests outside work
Playing the piano (I started two years ago!)
Discovering talented and inventive chefs with my husband
Reading books to/with my three children
Not listed in order of importance
My Favourite Brussels anecdote
Very few people know that the Residence Palace hosts an Art Deco swimming pool. I could not take my eyes off it when a journalist showed it to me more than a decade ago. It's beautiful, but needs renovating. Let's launch a campaign so it may be reopened one day!