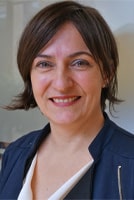 My Job
I am Head of Practice, Green Transition, Energy & Industrials.
My Experience
I joined FIPRA in January 2020 as Head of Practice for environment, energy, climate and chemicals. Curently my team and I spend a lot of our time on the Green Deal, its opportunities and challenges for the industry and society.
Before joining FIPRA, I headed Alcoa's government affairs efforts in EMEA for three years with the focus on energy, trade and sustainability. Prior to Alcoa I held External Relations Manager position at FuelsEurope. I spent 14 years with BP in various roles both in business and government affairs.  As External Affairs Manager for the Southern Gas Corridor project, I coordinated BP's government relationships with the EU institutions and within those European countries involved in the Southern Gas Corridor.  I have extensive experience in government relations and energy diplomacy. I spent eight years in BP's European Government Affairs office in Brussels where I led on international affairs issues, energy geopolitics and managed the Public Relations team. Before that, I held positions in BP France in Supply and Trading. I am a founder of l an informal ladies' network in Brussels and co-founder of  Krug, Serbian Club in Brussels. I have a Master's Degree in European studies from the University of Sorbonne. I hold dual Serbian and French nationality.
My Specialisms
My Proudest Achievements
My proudest achievement is the network of people I developed and maintained through the years all over the world.
My Education
Master's degree in European Studies, Sorbonne University, Paris
Degree in Applied Languages, English, French, Serbian, Sorbonne University, Paris
French language and literature, University of Novi Sad, Serbia
My Languages
Serbian, Croatian, Bosnian, English, French
My Interests outside work
I love people and love spending time with my friends and family both in Brussels and my other cities Paris and Novi Sad but also beyond. I love dancing and singing and I am very proud of my newly created Serbian Club in Brussels which I initiated with two friends.
My Favourite Brussels anecdote
I always laugh when I remember when some years ago there were two people in the same Cabinet with the same name (for one person it was the first name and for the other it was the last name). I was pretty junior person and booked a meeting for a very senior person who asked at BERL to meet with the person calling him by the first name and the reception invited the person with the last name. The culmination of the story is that nobody realised they were in the wrong meeting. Only 15 min into the discussion I got a call from the person we booked a meeting with asking' But where is Mr …I am waiting for him …'