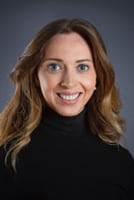 My Job
As head of the EU office of Vulcan Consulting, I provide clients with strategic advice on navigating political and regulatory hurdles across Europe. I am also responsible for managing our growing team and expanding the client base.
We have had a period of rapid growth over the past 12 months and I am very proud of what we have achieved. Now, I see 2020 as a year of consolidating and stabilising.
My Experience
After finishing my studies in Dublin, I started my career in Brussels as a stagiaire at the Council. As with every good Brussels story, I only intended to stay for five months but here I am (very happily!) six years later.
After my traineeship, I joined the American Chamber of Commerce to the EU where I worked in external relations for four years. I was responsible for developing relations with the European Parliament and the member states holding the Council presidency. I absolutely loved it and was privileged to be able to travel throughout Europe meeting individuals at the highest levels of government. It was incredible exposure to all sides of the EU and gave me a great understanding of how industry interacts with policy-making. I learned a great deal, and am very grateful to my former boss, Susan Danger, for preparing me for a career in consultancy with her 'member led, member driven' mantra!
In October 2018, I got a call from Lucinda Creighton, former Irish Minister for European Affairs and EPP Vice-President, asking whether I would be interested in heading up the EU office of her consultancy. It was simply too good an opportunity to turn down!
My Specialisms
My Proudest Achievements
Helping the Vulcan EU office grow from one person to five in less than 12 months and being part of the team that helped deliver the client wins that enabled this growth.
My Education
Trinity College Dublin, B.A. Modern Languages
Dublin Institute of Technology, M.A. Political Communication
My Languages
English, Italian, French
My Interests outside work
Brussels has a vibrant cultural scene that is really accessible to everyone. It's one of the things I love most about this city. On weekends, when I am not travelling, I will often visit a gallery or two, take in an exhibition or go to a play or concert.
I also like to stay active and find the gym to be a great way of unwinding after work. When I have time, I'll get out of the city and go horse riding. I come from a small village in Ireland called the Horse and Jockey, so it is in my DNA!
Like everyone else, I love travelling and seeing new places. In the past year I have visited Bordeaux, Istanbul, Rome, Ho Chi Minh City, Bali and Bangkok. Next stop Marrakech. Tips welcome!
My Favourite Brussels anecdote
For my role in AmCham EU I was interviewed by Brussels stalwart Thomas Spiller, head of Disney EMEA, in his capacity as chair of the AmCham EU communications group. The interview was slightly surreal, as it took place at Disney's offices. When it comes to interview nerves, they say the best advice is to just 'let it go' – this proved a lot easier when surrounded by Frozen memorabilia!