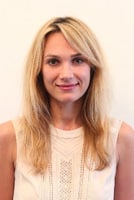 My Job
I bridge the gap between stakeholders' needs/ concerns/ expectations and the EU decision makers' understanding of the issues at stake in order to provide the best possible solutions.
Try to understand, inform, advise, convince…and learn.
My Experience
I have built my job experience mainly at ARCTURUS Group, where I evolved from an entry level position up to management. Before coming to Brussels, I had professional experience in the Moldovan Parliament and at the State University of Moldova.
My Specialisms
My Proudest Achievements
I think that this is a tough question ? There is always a whole team behind a great achievement.
My proudest achievement is probably not linked to a dossier result (it will be difficult to pick up one though) but a view/ perspective change.
I am happy when, while interacting with clients, I manage to convey a more accurate picture of the impact that the EU has on our (daily) life.
My Education
Bachelor's degree in International Relations, State University of Moldova
Certificate of Political Studies, International School of Political Sciences, Katowice, Poland
Master's Degree in European Affairs, Sciences-Po Bordeaux, France
"Systems Thinking" and "Political Economy: China and Russia'", Harvard Summer School, USA
My Languages
French, English, Romanian, Russian.
My Interests outside work
I like to travel, I play basketball, I tango, I do some volunteering work. My family is spread in 4 countries over 2 continents, travelling is a sine qua non condition to reunite with them.
My Favourite Brussels anecdote
The headquarters of EU institutions were supposed to be installed first in Nice or Paris. It seems that Germany opposed Nice and there was no agreement in France as regards Paris. Belgium offered a temporary address in Brussels (Rue de la Loi 200) …which remained a permanent one.  
Another one on the Mannequin-Pis. It appeared at the beginning of this year, on the background of increasing environmental concerns, that the Mannequin-Pis was leaking thousands of litres of drinking water directly into the sewers (around 1500 litres a day or the equivalent of the consumption of 4 households). Nobody was aware of that, but it was decided since then to implement a closed-water circuit.
"The Manneken-Pis has become a responsible consumer."