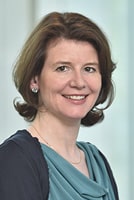 My Job
I'm the managing partner in Fipra International and I lead the Healthcare and Food Practice.
My Experience
I have advised clients on government relations issues in Brussels, London and Washington for the last 20 years. I grew our Fipra Brussels office, established our network in the USA. I also spent five years in the UK, where I was Vice Chair of Business for New Europe (BNE), a coalition of business leaders advocating for positive engagement in the EU.
I have a broad practice, which spans regulatory and antitrust matters with a core expertise in life sciences. Some of my most interesting work has been on competition/ pharma issues as well as advising on creating stakeholder coalitions on policies covering patient access to healthcare, financing models for innovative medicines and healthcare reform.
I am also active in the Brussels chapter of 'Women In Leadership'.
My Proudest Achievements
In 2005 was clear that the existing EU health and safety legislation would severely curtail the use of Magnetic Resonance Imaging (MRI) scanners over fears on the health impact of exposure to electronic magnetic fields. By building an effective coalition, 'The Alliance for MRI', made up of the European Society of Radiologists, leading patient advocates and industry, we succeeded in getting Member States and the European Parliament on board to support the Commission in repealing the Directive and introducing a revised text. It was only the second time in the history of the EU that such a repeal has happened.
My Education
French & German, Oxford University, MA. Post Graduate King's College London.
My Languages
English, French, German.
My Interests outside work
Consultancy is really quite all encompassing, but I enjoy the intensity of it as well as following politics and policy thinking. I also enjoy the social side of consultancy – I have made many good friends through my work in Brussels and beyond over the years and I enjoy spending time with them, reconnecting and having good parties!
My Favourite Brussels anecdote
I had a meeting with the CEO of client for the first time, along with one of my male colleagues. The CEO expressed his delighted at meeting us, thanked me for coming and then passed me his bag to carry…