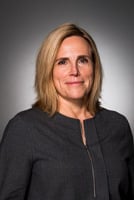 My Job
Having founded FTI Brussels as an all women's business, I work with my colleagues across the globe on building and leading our Public Affairs practice, spending as much time as ever with clients and developing the team. I also sit on the firm's global Strat Comms steering committee and the cross segment European Leadership Team.  My job is really to use the wider perspective to help clients and our team and to ensure our business keeps growing.
My Experience
Early on I worked in a D.C. think tank with a brief stint in the European Parliament as an assistant, I have run consultancies since the age of 23, moving to Brussels in 1989 to establish one of our competitor companies, going on to be CEO PA Europe before founding Blueprint – the current day FTI – on 16 January 2003.
Set up as an all-female business, it grew rapidly based on a simple philosophy which holds true today: understanding clients' businesses rather than looking at the European project in isolation; keeping senior people working for clients and being international rather than EU only.
Blueprint sold to FTI Consulting in 2008. The idea was to work with colleagues from diverse disciplines (economists and business transformation, technology, forensic litigation).  We scaled well and have built to be market leader so I count my experience as an entrepreneur beyond the day to day of my PA, GR and comms work in Financial Services, Energy & Industrials, TMT and Health.
I have various Non-Executive, Board and Fundraising experience in academia, sustainability and gender parity.
My Specialisms
My Proudest Achievements
The number of brilliant former colleagues now working throughout many organisations with whom I have had the pleasure of working and learning.  They have become recognized professionals able to build fantastic careers. The team at FTI in Brussels has grown considerably and it's wonderful to constantly be impressed and challenged by smart and ambitious people.
My Education
Downing College, Cambridge – MA Hons Cantab (English Literature).
My Languages
English and French, smattering of Dutch.
My Interests outside work
Business Angel investor; women's issues including being a founder board member of the Women's Forum (www.womens-forum.org) various board and fundraising positions; theatre and the arts – drawing (badly) and photography; walking; travelling and horse-riding – I was able to do both at the same time last year in Patagonia whose beauty draws me back.
My Favourite Brussels anecdote
Maybe best to tell a story against myself here. Back in the day when lack of European savvy was not a Brexit complaint but was linked to pure naiveite on my part I managed to demonstrate my poor Dutch by writing to ask for a Commission meeting whilst somehow translating the name of my interlocutor to Mr Cheese and White Bread.  The meeting, thankfully, still went really well!