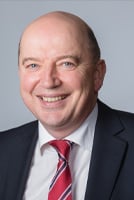 My Job
Understand future trends and align our clients and business with those emerging realities. Working with an amazing team of EU Funding and Public Affairs consultants, covering everything from Anti-Money Laundering, Broadband, Smart Cities and the list goes on.
My Experience
Management Consultant (restructuring companies), National Expert in the European Commission (education & youth), Founding & Growing Schuman Associates for the last 30 years.
My Specialisms
My Proudest Achievements
Building the Schuman presence and influence far beyond Brussels with offices across 11 EU Member States. Defending Supermac's in their battle against Mc Donald's. Consistently winning business for our clients.
My Education
I graduated from the University of Limerick – Public Administration -Economics & Law.
My Languages
English & French.
My Interests outside work
Munster Rugby / Limerick Hurling / Growing Vegetables & Cooking on my 'Big Green Egg' for family & friends.
My Favourite Brussels anecdote
What happens in Brussels stays in Brussels.