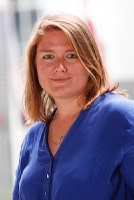 My Job
I lead media, political and regulatory engagement for a number of Red Flag clients and manage relationships with clients, senior advisors and journalists. As a core part of Red Flag's offering is strategic communications, I devote a lot of time to working with the media and stakeholders in Brussels as well as across Europe, Africa, South America and the US.
As the Head of Red Flag's Brussels office, I manage all the operations in Brussels particularly with regard to priorities, resources and creative ideas and also senior engagement with the European Institutions.
My Experience
After university, I was lucky enough to have the opportunity of a traineeship in the European Commission in what was DG Home at the time. From there I moved to the Toy Industry trade association (TIE) where I was immediately exposed to a broad range of policy and communications issues which trade associations are facing.
Thanks to TIE I experienced how consultancies interacted with associations and so my interest in consulting began. At the beginning of 2013, I joined Acumen public affairs – where I worked on clients across a variety of sectors including environment, agriculture, financial services, consumer, health and digital – for public affairs, communications and events.
I moved to Red Flag a few years ago now, looking for my next challenge and found it. The campaigning approach we adopt at Red Flag is something I had not experienced before and it changes the way you work – the Red Flag team is so much more dynamic and strategic than anywhere I have experienced before.
A testament to Red Flag's work and accomplishments is down to the strength and diversity of the Red Flag Brussels team. It has grown from two people in an office on the roundabout to a team of 15 campaigning specialists. I'm really proud to lead the team in Brussels.
My Specialisms
My Proudest Achievements
It is hard to pick just one as since joining Red Flag, I have worked on several different clients and I have accomplished a lot. One of my proudest achievements is the campaign we have been running on behalf of the Counter Extremism Project (CEP) for the past two years. It is a strategic media campaign across Europe to build a reputation for the NGO and its expertise whilst advocating for more to be done at EU and national level. There have been many activities along the way but ultimately working with the Commission to take action (in the form of legislation) and hearing the CEP's messages in high level discussions by Commissioners was truly phenomenal.
My Education
Undergraduate – University of Sussex: Sociology and Contemporary European Studies
Masters – University of Sussex: International Relations
Masters – University of Sheffield: Global Politics and Law
My Languages
English and French.
My Interests outside work
I am a huge sports fan and I love travelling. Rugby is my main addiction and I'm slowing ticking off every major European stadium. Unfortunately, I won't make it to the World Cup this year but I will definitely be watching.
I've also recently started running and cycling – I'm not going to be competing in triathlons anytime soon but it's a nice way to get out and enjoy the weather (when we have it).
My Favourite Brussels anecdote
You get to the European Parliament esplanade early ahead of a meeting with a MEP and you're waiting for your client to turn up. The time is ticking on and you're pacing up and down, starting to feel more and more under pressure that you may miss the meeting when suddenly the client comes rushing across to you. Through accreditation and into the building you go, catching up as you fly through the corridors – the client is raving about a new application on their phone that helps avoid the horrific traffic in Brussels. This sounds great, except for the fact that the reason for the slightly delayed arrival of the client is because they got stuck in traffic.