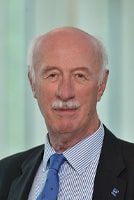 My Job
My main role is to help clients navigate their way through the Brussels minefield and advise on how they can best achieve their business objectives in the public affairs and regulatory space. Often, our best advice is on what not to do.
My Experience
I have worked in public relations, advertising, marketing in the chemical industry covering the pharma, animal health and agriculture sectors. I was the country head for a major corporation and was Secretary General of the legacy organisation of Business Europe. The last 20 years have been spent building up Fipra.
My Specialisms
My Proudest Achievements
One of my proudest achievements was to see that small and medium sized enterprise organisations were included in the EU "social dialogue" as social partners. Most of the other trophies are for how we helped clients win.
My Education
I have a BA honours degree from London University and diplomas in advertising and marketing
My Languages
I am a Dutch native, brought up in English and fluent in French with a passive knowledge of German and Italian.
My Interests outside work
Weather permitting, I am a keen gardener. I also enjoy playing tennis, reading and music and for the rest of the time I am a family man.
My Favourite Brussels anecdote
How Brussels has changed. When Barbara Emerson wrote her critical biography 'Leopold II of the Belgians', she broke a taboo. It was not what had happened in the Congo, but rather the fact that she wrote about the king's exotic sex life; the scandal was to treat the king in such an irreverent way. Such candour now no longer has the capacity to shock.