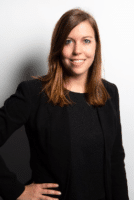 My Job
I'm a Director at Grayling's Brussels office and lead our Agri-Food practice there, advising both leading companies and trade associations on environment, trade and food policies.
My Experience
My experience includes developing and implementing public affairs campaigns and advising multinational companies and trade associations on the impact of European political, legislative and regulatory developments on their business.
I have managed several pan-EU Public Affairs campaigns, assisting clients in their lobbying strategies to limit or remove possible threats in upcoming or existing legislation. I also have a deep comms expertise, having supported a broad range of companies and industry sectors developing their narrative, increasing their visibility in EU media or at high-level events.
My Specialisms
My Proudest Achievements
In 2015 the EU gave Thailand a warning in the form of a yellow card saying that should the country continue to engage in illegal, unreported and unregulated (IUU) fisheries, the EU would impose a ban on all imports of Thai fishery products into the EU.
With my team, we helped Thai Union, a world seafood leader, to build a privileged relationship with the EU IUU Unit, allowing the company to access timely information on the state-of-play of the negotiations between the EU and Thailand. We also developed a strong communications plan to regularly inform the EU about the progress achieved in Thailand and profile Thai Union as a responsible industry leader.
On 8 January 2019 the European Commission lifted the "yellow card" on Thailand and Thai Union is now recognized by the European Commission as a key partner in the fight against IUU fishing.
My Education
I hold a bachelor's degree in political science from the University of Namur (Belgium) and a master's degree in political advocacy: Marketing, lobbying and public opinion from the Université catholique de Louvain (Belgium).
My Languages
I speak French and English fluently as well as a bit of Spanish and Dutch
My Interests outside work
Food: I'm a real food lover, always excited to discover new restaurants and try new recipes.
Travelling: I love discovering new cultures, and I have developed a real passion for Asian countries.
Reading: I always have a nice book with me, and I regularly stay up late because I can't put it down.
My Favourite Brussels anecdote
Did you know that the Brussels' International Airport is the largest chocolate selling point in the entire world?