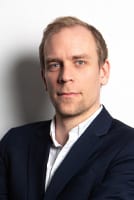 My Job
I'm a Public Affairs and Communications professional and currently the Head of the Healthcare practice for Grayling Brussels. I assist some of the major healthcare players including leading pharmaceutical and medical devices companies, providing strategic advice for their positioning and lobbying strategies at the European level and assist them in monitoring European developments that could impact their business.
I'm also proud to help non-industry players, patient groups such as the European Parkinson's Disease Association and international organisations such as the WHO to adapt and respond to tomorrow's policy challenges in health.
Apart from healthcare, I also have considerable experience in undertaking perception surveys, reputation and benchmarking audits and undertaking digital media campaigns for a wide range of clients.
My Experience
I started out as a Communications Consultant at The Royal Norwegian Embassy in Stockholm. In 2009 I worked as a Public Relations Officer for Apoteket Omstrukturering AB, the Swedish state-owned company tasked with overseeing the de-regulation of the Swedish pharmacy market. Prior to Grayling and moving to Brussels, I was the Communications and Public Relations Head for the Swedish pharmacy chain Apoteksgruppen.
My Specialisms
My Proudest Achievements
Presenting in front of the then Director-General of the WHO, Dr Margaret Chan. the results of a global perception survey we had conducted for the World Health Organisation. Not only was the work impressive – we surveyed over 5,000 external stakeholders and 9,000 employees across 50 countries – the giant plenary room at WHO HQ in Geneva was quite the stage!
My Education
Bachelor's degree, Communication and Media Studies
Stockholm University, Stockholm, Sweden
My Languages
English, Swedish, Norwegian
My Interests outside work
I'm an avid cinephile. Name a movie and I will have seen it or have an opinion on it. I also collect comic books. Currently hunting for issue #245 of Amazing Spider-Man.
My Favourite Brussels anecdote
One of my favourite anecdotes from Brussels is a perfect example of how small Brussels really is.
A group of colleagues and I were on our way to a costume party and I was dressed as Björn Borg – in a full 80's long hair wig, tennis racket and shorts. On the way to the party I literally bumped into a Commissioner, who I had met with a client just earlier that same week. After a series of awkward looks the Commissioner asked me: "Don't I know you?". Terrified to ruin the good impression I felt I had made after our meeting I was searching my brain for an appropriate response. Before I could answer, the Commissioner said: "Wimbledon? 1980? Right?" He laughed and kept walking.